Before you add single reel trailers to your fleet, there are 3 key factors to consider to ensure success. Learn more about reel trailers and call PTR at (844)245-3338 to rent.
---
CONTINUE READING
Fine touch inching to all out brute force makes this the unit for all pulling jobs. Overhead pull speeds of 0 feet per minute to over 6 miles per hour and underground pulls from 0 to 40,000 lbs line pull.
One man operation set up definitely proves its job oriented efficiency.
---
CONTINUE READING
If you need rent-ready trucks to help with storm relief efforts, power restoration, and more, we've got them ready to ship nationwide. Premier Truck Rental is always here to help you plan, prepare, react and recover. Call (844)245-3338 for information.
---
CONTINUE READING
The utility industry is booming. 3 rent-ready trailers with nationwide delivery to aid in utility projects are CLD-20 cable trailers, LCT-7500 cable trailers, and fiber optic splicing trailers. Call (844)245-3338 to rent.
---
CONTINUE READING
The industry's need for a high-speed overhead stringer and underground puller is now answered with the Hydra 985 Boss Hog. This single reel, self-maneuverable cable reel unit is top of its class. Call (844) 245-3338 for a rental quote today.
---
CONTINUE READING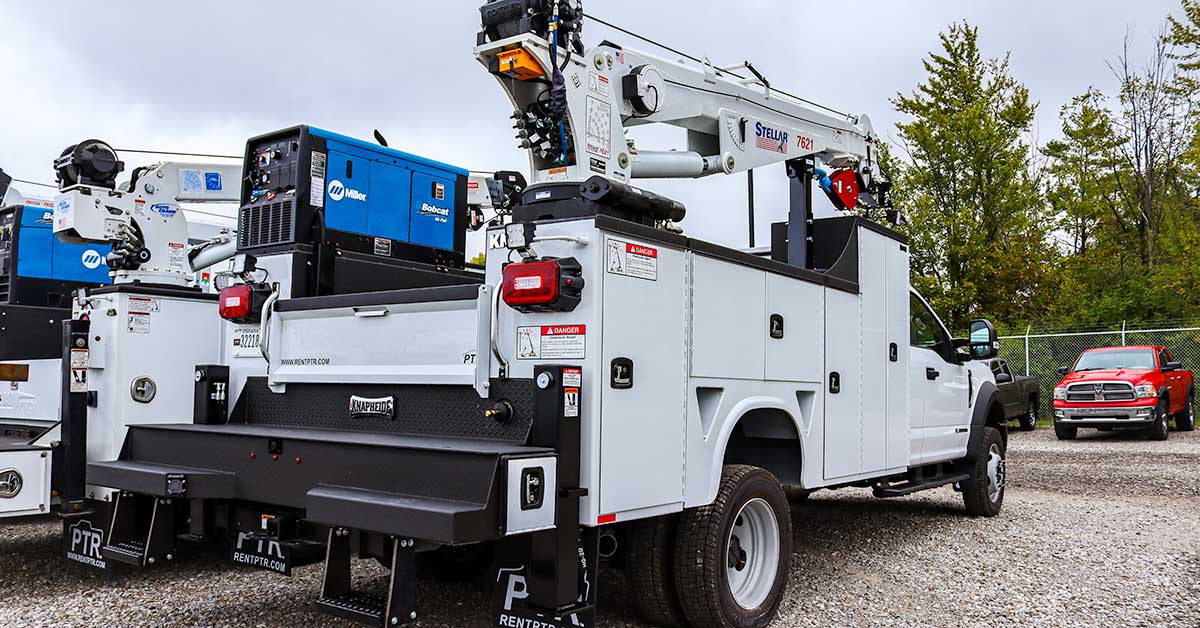 Having an F550 Mechanic Crane Truck in your fleet is important when working on projects with heavy equipment. PTR is happy to announce the expansion of our F550 Crane Truck offering, now having Knapheide truck bodies available for rent in addition to STI truck bodies.
---
CONTINUE READING
Utility is in our DNA. Rob Troxel, PTR's CEO has been a big name in the utility industry for quite some time and we wanted to share his story.
---
CONTINUE READING
Quality comes first. With the variety of jobs that utilize service and mechanics trucks, having the right unit is crucial for productivity. PTR and Knapheide have been partnering to provide custom solutions in the utility and construction industries.
---
CONTINUE READING
Heavy duty flatbeds, built tough and customized exactly to your job's demands. PTR offers Bedrock Truck Bed Flatbeds for your rentals to ensure quality and durability every time.
---
CONTINUE READING
PTR has further expanded our utility trailer fleet, having Larson LCT-7500 Cable Reel trailers for rent!
---
CONTINUE READING