REEL LOADERS – VERSATILE AND CONVENIENT
Time is of the essence. Your deadlines are important and you deserve to have the confidence that you'll meet them. That's where an F550 Reel Loader with PowerWind comes into play. These units were designed to specifically help you save time when loading and transporting reels to and from the job site. 
The single person operation is a perfect fit for construction and telecom industries and has the capacity to lift reels weighing up to 5,000lbs, 102" in diameter and up 60" wide in our latest model. Designed if your standard reel width is larger. The use of the PowerWind is incompatible with 60″ reel at the moment and is intended for transportation purposes only. Max reel size for the PowerWind is 54″ on this model. Other models are fully capable with reels up to 48″. Add a Figure-8 option for safe fiber optic lay down.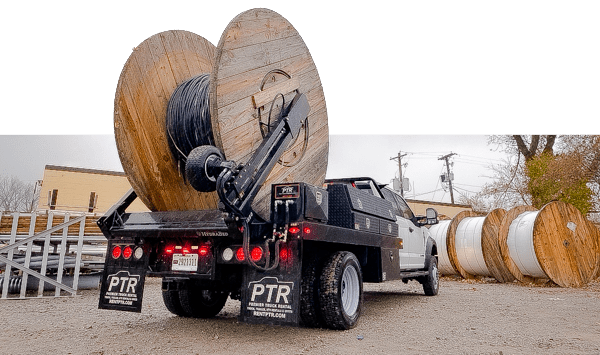 Our Reel Loader Truck bed is steel with a high-quality finish, allowing your bed to handle any load with extreme durability. All of our 2-ton reel lift and load truck rentals are 4×4 crew cabs and each come standard with side steps, LED lights and top-rated hitches.
A GLIMPSE AT A REEL LOADER
CUSTOMIZE YOUR REEL LOADER AND SAVE TIME
TOOLBOXES
Find the right storage solution for you with different size toolboxes. Securely transport your tools right in the bed of your truck to and from your jobsite
.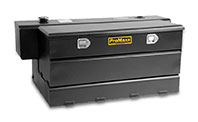 FUEL STORAGE TANKS
Toolbox storage and a fuel transfer pump? That's what you get with a fuel storage tank. Everything is right there for you
.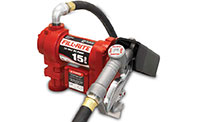 FUEL TRANSFER PUMP
A 12V transfer pump quickly pumps gas from your storage tank to your vehicle's fuel tank, saving you the stress of having to fill-up manually
.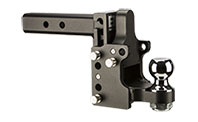 HITCHES
Towing equipment has never been easier. Choose from a Ball, Pintle or Ball/Pintle combo and hit the road
.