TAKE ON YOUR PROJECT WITH TELECOM & UTILITY TRAILERS
You need a trailer that you can count on. Whether you work in underground construction, drop buries, aerial construction, or installation and repair of telecommunication cables, our trailers are ready to work for you. These trailers are also great for transporting pols and materials for lighting and signage installation projects.
Manufactured by Brindle, Tuf-Solutions, and Brooks Brothers, our reel, utility pole and utility pole cargo trailers are specifically designed for the electric utility and telecom industries.
Transport reels up to 7,000lbs with a BRT90. These single reel trailers have a manual hydraulic pump to easily load reels for your next project.
BRT120's aren't your average reel trailers. Featuring self-loading drop-in racks for reels, you can load reels without additional equipment. Go bigger with a BRT120.
Load and unload cable anywhere with a CT9 and manual hydraulic pump. With a 16" stainless steel tension brake, these trailers are perfect for utility and telecom projects.
Hauling distribution transformers is easy and stress-free with a CRT2 Cargo Reel Trailer. Featuring a spill-proof cargo bed, these Brindle trailers will safely load reels and get your job done.
Get your next project completed fast with a 4RT21BS Tension Trailer. Having a tension rig for distribution work and total max reel weight of 15,000lbs, electrical contractors can easily mount reels for pulling cable wire.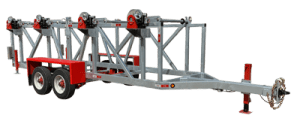 Using bigger reels? With a total max reel weight of 16,000lbs, this reel carrier tension trailer allows you to mount (4) 60" or (3) 96" diameter reels for pulling cable wire. Take on the toughest of jobs.
Featuring the ability to haul multiple innerduct reels, the RL4RT innerduct trailer can handle anything that your jobsite throws at it. This reel trailer can transport up to (4) 96" diameter reels or (3) 120" reels.
Do you have a large wind or solar farm project? This utility reel trailer is exactly what you need. Wind and Solar energy construction is no simple task, and this trailer is capable of hauling (4) 96" diameter reels or (3) 120" diameter reels, having a maximum combined reel weight of 44,000lbs. The RL4RTWF is the ultimate wind farm reel trailer.
This trailer was made for renewable projects. Completing wind and solar projects is tough, so having this trailer with you is certain to help you work. The RL5RTWF trailer is capable of hauling (5) 96" diameter reels or (4) 120" diameter reels, having a maximum combined reel weight of 44,000lbs. The RL5RTWF trailer is the perfect wind farm and solar reel trailer.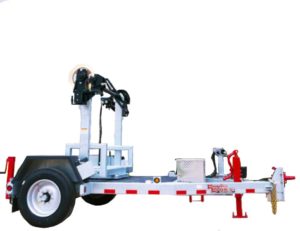 Installing wire and cable is quick and easy with Single Turret Reel Trailers. Having 360-degree hydraulic rotation, a self-loading feature, a hydraulic brake and more, these trailers are great for any utility fleet.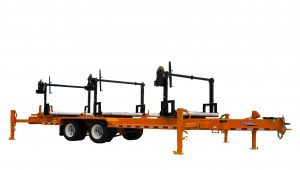 Save time while working. Our Three Reel Turret Trailers have 360-degree hydraulic rotation, allowing you to move the reel in any position needed. All you need to do is remove the lever-actuated locking pin and rotate the reel in the direction.
Our Gas Pipe Trailers are perfect for construction jobs, being able to transport large, heavy utility stick pipes and gas pipes to and from your job site with ease.
Great for projects in telecom and utilities, these trailers have crossbars to help support the coil, are vertical and self-loading and have a remote-controlled powered hydraulic option to increase crew safety.
Durable. Comfortable. Our Fiber Optic Splicing Trailers are ideal for protecting your splicing operations from any type of weather or debris. Built for you and made to last.
Perfect for Figure-8'ing and blowing fiber or transporting and paying out any size reel, our Tandem Axle Cable Trailers come standard with a 20 HP Honda engine and a 2-stage hydraulic system for both high torque and high speed.
Our CLD20 Reel Trailers are perfect for hauling large, heavy reels. These units don't have any pins or cotters to secure the reel bar, keeping you and your guys safe when handling reels. Stay productive while working.
Overhead pull speeds of 0 feet per minute to over 6 miles per hour and underground pulls from 0 to 24,000 lbs. line pull.
The industry's requirement for a high-speed overhead stringer with a brute strength underground puller is now answered with the HP6500 Hydrastatic Puller. The concept of the single reel, self maneuverable cable reel unit has been proven time and time again over the years
Transporting poles is no easy task. Our PMT160 Pole Material Reel Trailer allows you to transport poles up to 55' long and includes a cargo bed with a fold down tailgate for extra storage space.
Working in the Utility and Telecom industry is not easy. Transporting poles and materials to and from job sites safely and efficiently is hard work. Our 18K Cargo/Pole Trailers are made to work and are packed with features that will help you and your crew on the job.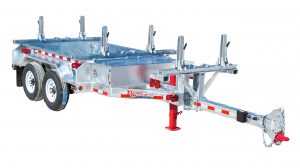 Need to transport materials and poles to your project site? We've got you taken care of. Our PT-92 Cargo/Pole Trailers will get your job done right.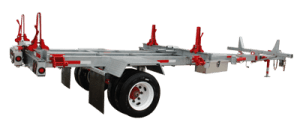 PT15 Pole Trailers will help you carry your load with ease. This single-axle, dual-wheel trailer can transport up to 12,000 lbs in one load and secure them with integrated binders. The adjustable sliding pollsters make transporting poles stress-free. These trailers are perfect for lighting projects as well.
Ideal for utility contractors, the PT30 is perfect for transporting distribution or transmission poles up to 75'.
The perfect trailer for Power and Telecom projects, PTR's 24K Utility Pole Trailer is built to tackle the most demanding projects.
Need to move large, oversized poles from one jobsite to another? We've got you covered. Our 40K Pole Trailers are rent-ready and will help you and your crew move poles quickly and efficiently.
You need to have your transmission and distribution-sized poles at your site when you start your project and need a durable trailer to make sure they get there on time. Our TMB-40 Pole Trailers will make sure everything is taken care of for you.
Do you work in Power and Telecom Construction? If so, we've got the perfect trailer for you and your crew. Our PSP-47 Pole Trailer is tough and durable, ready to work for you.