HAULING MADE EASY WITH UTILITY DUMP TRAILERS
Never stress again about the size of your load. Our Utility Dump Trailers are made to handle the toughest of jobs. Need to remove debris? No problem. Have to spread dirt and rocks? Done. Moving materials has never been easier.
BUILT TOUGH
Dump trailers are as heavy-duty as they come. We know that you have intense job demands, so we work hard to make sure that you have the toughest trailer you need. Each of our dump trailers have a payload of over 10,000lbs, 7-gauge floor, 12K HD jack upgrade, HD slipper spring axle upgrade and a hydraulic hoist to help you get your projects done.
FEATURES FOR YOUR JOBS
Finding rental equipment that has more than just basic features can be a challenge, which is why we make sure that our Dump Trailers come with added features that you're looking for, like: a combo barn door/spreader gate, under-bed stored ramps, underbody secure tool storage, (5) 1″ D-rings, tarp kit and a spare tire. Whether you're fighting tough job conditions or a tight deadline, these added features will help you on the job.
Our Dump Trailers pair great with a ¾ ton pickups or flatbed rentals to ensure that your crew has the tools they need at your job site.
A UTILITY DUMP TRAILER IN ACTION
MORE OPTIONS TO MEET YOUR NEEDS
4X4 TRUCK RENTALS
Choose from pickups, flatbeds, dump trucks, service utility trucks and more! We have corporate monthly rentals available nationwide, all delivered right to your jobsite
.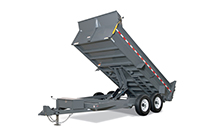 TRAILER RENTALS
We're certain that we have the right trailer for you. Whether it's a dump trailer, a deckover gooseneck trailer, a tilt bed trailer or a different trailer, we have what you need to get work done
.
ACCESSORIES
Upfit your rentals and be more productive. We offer toolboxes, strobe packages, winches, inverters and more!