Fleet Rentals
Everything you need at your fingertips, meaning no more stress when it comes to your equipment rentals. We pride ourselves in being a one stop shop. Whether you need trucks, trailers, all-terrain units or a combination of the sort, we've got what you need for your next job. Want to make your team as efficient and productive as possible? Our in-house upfit team will customize your rentals specifically for your projects. Stop waiting and start renting. You'll be glad that you did.
Have an off-road job and not sure how you're going to get to the site? Meet the Fat Truck. This industrial, off-road utility vehicle was made to move your crew and materials across difficult terrains. Crawl, swim or climb in the Fat Truck and take on anything that comes your way.
Simple yet incredibly versatile. 4×4 pickup rentals are a staple for jobs like yours. Without these units in your fleet, your productivity will drop. Let us upfit your pickup rentals and help you and your crew stay busy.
Your work just got that much easier thanks to an upfitted flatbed rental. Our ¾-Ton, 1-Ton, 2-Ton and speciality flatbed rentals were created to keep your crew working as efficiently as possible and have endless upfit capabilities based on industry and job demand.
Everything you could possibly need at the jobsite, all in one truck. This unit is the 2-Ton utility service truck that you've been looking for. The Candy Wagon™ is the jack of all trades in our fleet, loaded with all the goodies you need.
 These 2-ton trucks are loaded with different features and upfits to help with your projects – having a heavy-duty overhead rack rated at 3,500 lbs, 8 body boxes (6 above and 2 below), a transfer tank and pump, stake sides, a Knaack toolbox, and more.
Designed to save time transporting reels to and from the jobsite, the Reel Loader Truck has become a necessary truck in the construction and telecom industries. The Reel Loader has the capacity to lift reels weighing up to 5,000lbs and is designed to carry reels over the truck axle for maximum stability.
Looking for durability and dependability with your next 4×4 truck rentals? Our open service utility rentals are built with a solid steel bed that's strong enough to withstand your toughest jobs.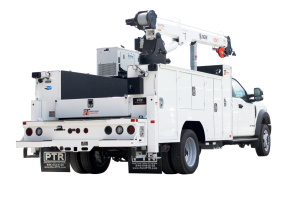 Service trucks exactly how you need them. Equipped with a crane (available in Electric Over Hydraulic), compressor, welder, generator, work lights, strobe lights, rollout mechanics drawers and more, these units were made to do the heavy lifting for you at your site while securely storing your equipment.
2-Ton Enclosed Utility Body trucks will help you stay organized and allow you to have everything right at your fingertips. The taller interior height lets you walk in the back of the vehicle and gives you more shelving space to store and organize your materials.
Our Vanair® Enclosed Utility Trucks come equipped with a PTO Driven Underdeck System. The Genair® is a rotary screw air compressor and generator system that uses a single PTO opening. Thus, utilizing the truck's own engine for power and ease of maintenance.
Don't worry about the size of your load. Whether you're transporting mulch, stone, sand or dirt, our F550 and F750 dump truck rentals are the best choice for any landscape or construction project.
Built to last and ready to haul. Whatever your towing needs are, we've got the right trailer rentals for you and your crew.
Top-of-the-line and just for you. Working in the Electric Utility and Telecom industries have never been easier. Our various reel, utility pole, fiber splicing, hot stick and utility pole cargo trailers are high quality and made to work.
Save time for your next project with custom upfits. Our wide selection of add-ons make customizing your next equipment rental a breeze. Whether you need ladder racks, front winches, brush guards, or other upfit options, we've got what you need to be more productive on the job.