The industry's need for a high-speed overhead stringer and underground puller is now answered with the Hydra 985 Boss Hog. This single reel, self-maneuverable cable reel unit is top of its class. Call (844) 245-3338 for a rental quote today.
---
CONTINUE READING
Having customized, heavy-duty trucks in your fleet is incredibly important when it comes to reaching goals and getting your job done on time and within budget. We've put together a list of 3 things to consider when looking into upfitting your truck rentals.
---
CONTINUE READING
Designed by you, built in-house at PTR specifically for your transmission power line jobs. Our F550 Framer (also known as the Candy Wagon) is a specialized fleet solution that's a utility truck full of all of the goodies you could possibly need while working.
---
CONTINUE READING
Having greater visibility of your fleet rentals is crucial for jobsite success. Learn 4 key benefits of having GPS fleet tracking for your PTR truck rentals.
---
CONTINUE READING
As the temperatures drop in the winter time, it's important to be prepared to prevent your diesel fuel gelling (and your fuel-filter icing). Read about our 2 recommended products to keep your projects moving during the winter months.
---
CONTINUE READING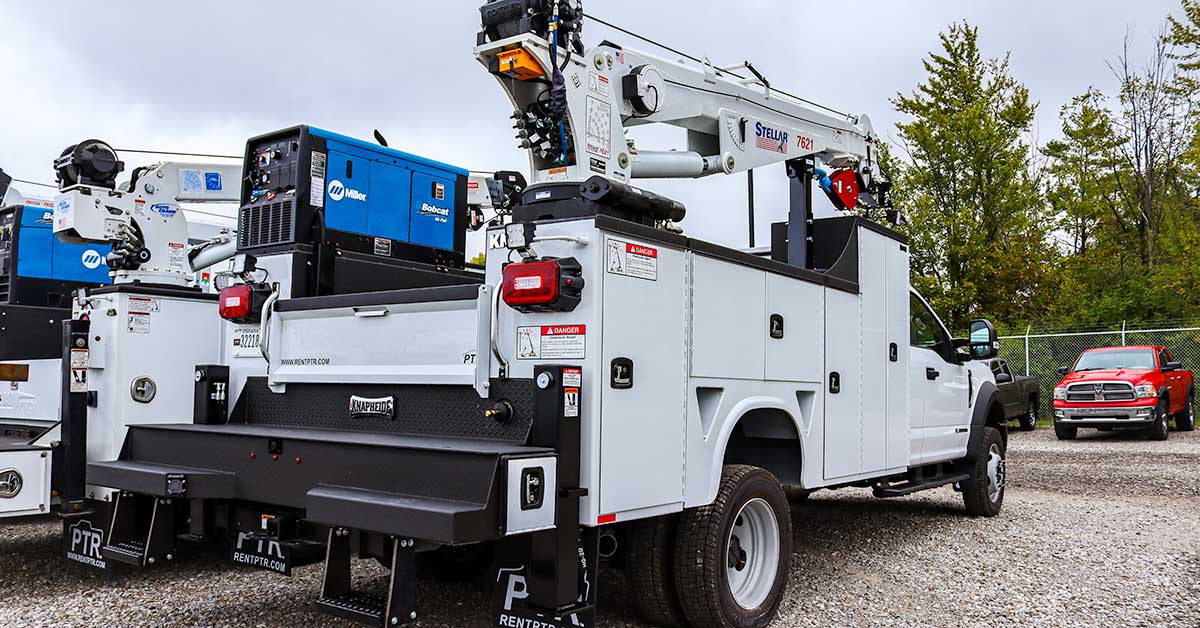 Having an F550 Mechanic Crane Truck in your fleet is important when working on projects with heavy equipment. PTR is happy to announce the expansion of our F550 Crane Truck offering, now having Knapheide truck bodies available for rent in addition to STI truck bodies.
---
CONTINUE READING
PTR is excited to announce the expansion of our all-terrain product offerings, having a Fat Truck Pickup 2.8P available for rent. The Fat Truck 2.8P is a fully amphibious pickup truck model that breaks the norm.
---
CONTINUE READING
Created for wind and solar farm projects, our Triplexing Cable Wrappers (also known as VelociWrappers) make cable laying in trenches quick and easy. Here are 3 reasons they're necessary when working in renewables.
---
CONTINUE READING
Our Triplexing Cable Wrapper (also known as the VelociWrapper) can wrap MV cable into a triplex bundle using twine. Primarily used for burial in a trench for wind farms and solar farms. Call (844)245-3338 for details.
---
CONTINUE READING