NEWS AND NOTEWORTHY CONTENT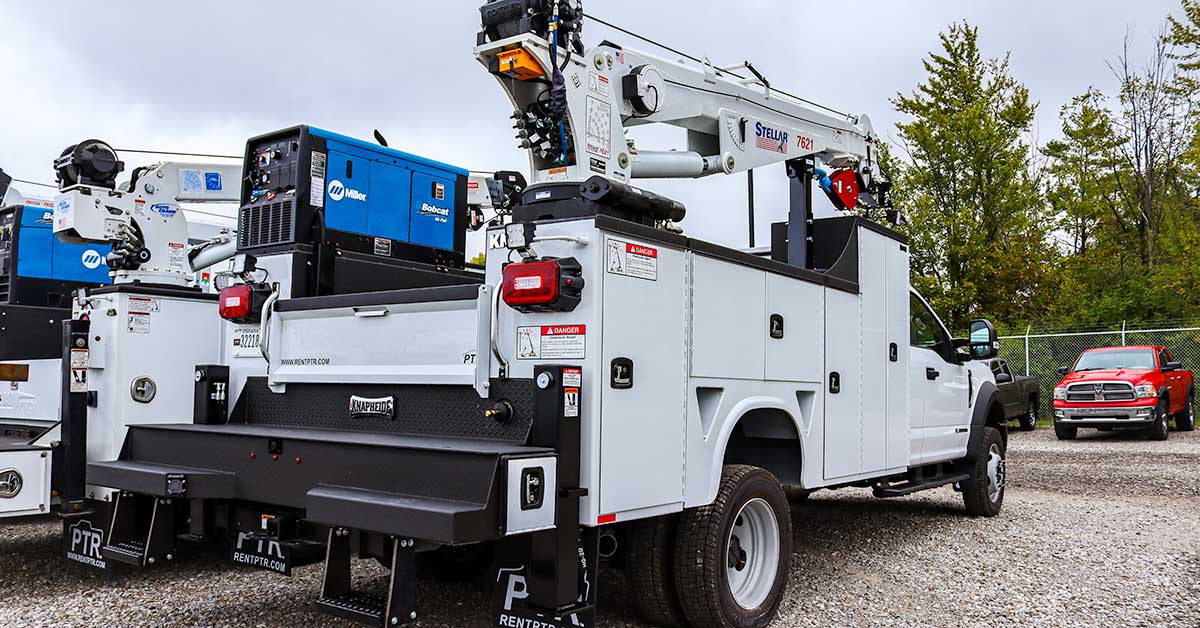 4 Advantages of Knapheide & STI F550 Crane Trucks
4 Advantages of Knapheide & STI F550 Crane Trucks
Having an F550 Mechanic Crane Truck in your fleet is important when working on projects with heavy equipment. Knowing the need for these units, PTR is happy to announce the expansion of our F550 Mechanic Crane Truck offering, now having Knapheide truck bodies available for rent in addition to STI Service Truck International truck bodies.
Knapheide's Crane Trucks are made to help with your heavy lifting jobs. These units have an 11-foot crane body with a crane support system, master locking system, a light on the boom and more.
Both of our F550 Mechanic Crane Trucks from Knapheide and STI Service Truck International are as heavy duty as they come and are built to work. We've put together 4 advantages of having these trucks in your fleet.
1.They're versatile for different project types.
Mechanics Trucks are great for different industries and project types. Because of their durability, crane, bed space and external storage compartments, these trucks are perfect for a variety of industries, including construction, wind, telecom, oil and gas and more. Whether you need to move equipment or store additional tools, both our Knapheide bodies and STI Service Truck International bodies are made for the job.
2. These units have a variety of features for added benefits.
Having an up-to-date utility truck is important, especially when you need added features to help you and your guys work on your construction site. All of our F550 Mechanics Trucks come standard with an array of features, like:
Backup cameras

Side steps

Tow package and hooks

Bluetooth

Keyless entry and start

Trailer brake controller

Cruise control 
3. You can easily add extra equipment and upfits.
Upfits add to your productivity on the job. When you include additional equipment to your rentals, you'll save both time and money while working by having all that you need right at your fingertips. 
Whether you are looking to add a toolbox for additional tool storage, a fuel transfer tank and pump to help keep your equipment's tanks full and running smoothly, Feniex strobe lights for when you and your guys are working in the middle of the night or a different upfit solution, our in-house upfit team will source and install all of the equipment for you.
In addition to installing extra equipment on your rentals, we can apply custom decals to your rental units for no added cost. Reducing the middle-man and having your decals applied before your project starts saves you time and allows your crew to start working on what's really important – your project.
It's crucial to have your truck built and ready to work on day 1 when your boots hit the ground. Just let our team members know a little bit about your project scope, crew size and job needs and we'll take care of the rest.
4. The crane and truck bodies are made to work.
Our Mechanics Trucks have 4 corner strobe work lights, spray-in bedliner, rollout drawers, down/outriggers, master gang locks, hydraulic cranes and more. Each of our F550 Crane Trucks have:
GVWR of 19,500lbs

GCWR of 35,000lbs

Payload capacity of 3,200lbs

Towing capacity of 18,500lbs

Crane capacity of 6,500lbs

21' crane reach with 400 degree rotation
When it's time for you to move equipment, our F550 Mechanic Crane Trucks are here to help. There's no need to stress about your trucks, so our sales team members will work with you to customize your crane truck rentals to spec to help you accomplish your goals. Choose from Ford or Ram trucks with a Knapheide or STI Service Truck International body and get ready to work.